Vacation Rental Availability Calendar
pageBuzz.com is a popular website hosting system for vacation rental property owners. With the availability calendar and e-commerce features anyone can display calendars of rooms, houses or other properties are available for booking.
With our low price it is within anyone's budget to have a website to rent out their vacation rental property.
| | |
| --- | --- |
| | Take a look at our sample website biglakerentals.com to see the availability rental calendar used in a working website. The colors and styles can be changed to suit your own websites design. |
You can build 1000 pages, add 2500 photos in the photo gallery and display full details about when room or homes are available. Build detailed pages about the property available for rent and add the availability calendar to the page to show when it can be rented.
The program allows hotel owners to list all of their rooms on a single page showing visitors exactly which days are available at just a quick glance. This saves the property rental person time from answering phone calls to check booking listings for availability only to tell the caller it is not available on that date.
The program is great for small hotels or motels as well as anyone that has just one vacation property that they rent out by the day, week or month.
The calendar uses simple color codes that can match your website design and show simple colored days in a standard calendar which is familiar to everyone. Duisplay a single propery or show a list of up to 100 properties and their availability on the same page.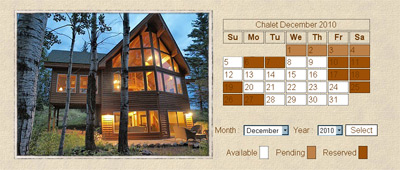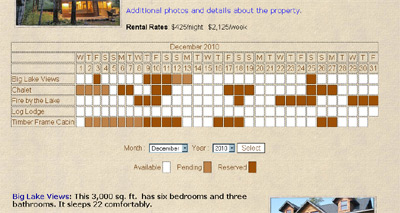 If you use the calendar in conjunction with the forms offered on the secure server it becomes very easy and efficient to take reservations online. Take deposits by credit card or have customers mail you a check. Which ever method you choose it will streamline your rental business and cut down your work load as well as giving customers a great overview of your availability.
Since many vacation rentals are booked based on availability with people taking vacation time based and when they can rent the property the calendar makes it much easier for the customer to choose when they want to book the rental. It is a great tool for everyone and it is included with every website hosting account as a standard feature.
The availability calendar is also used by DJ's, Wedding and Banquets facilities, horse farms and boarding facilities, equipment rentals, boat rentals, RV rentals, bands, entertainers and anyone else that does bookings by the day.